Roadshow to visit every county in Ireland
Roadshow will run from the 24th of September until the 25th of October 23 September 2021 – The Creating Our Future Roadshow will kick-off tomorrow, starting in Greystones, Co Wicklow, and will run until the 25th of October. Creating Our Future is a government-led national brainstorm that will involve the people of Ireland in a […]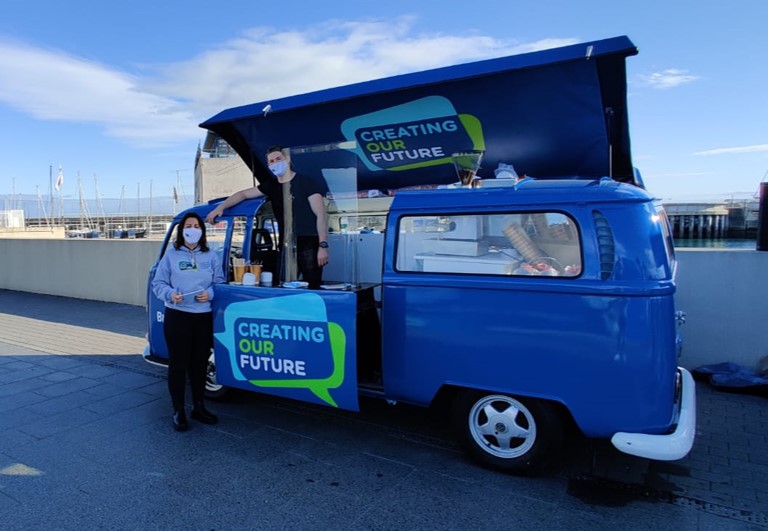 Roadshow will run from the 24th of September until the 25th of October
23 September 2021 – The Creating Our Future Roadshow will kick-off tomorrow, starting in Greystones, Co Wicklow, and will run until the 25th of October.
Creating Our Future is a government-led national brainstorm that will involve the people of Ireland in a conversation on the role research can and should play in addressing opportunities, challenges and hopes for the future. Creating Our Future will ensure that the direction of research in Ireland is informed by the people it serves.
Creating Our Future is asking people to submit their ideas about what researchers in Ireland should explore to create a better future through the dedicated online portal www.creatingourfuture.ie, which is open until the 30th November 2021.
The Roadshow will be pulling up in towns across the country and will encourage members of the public to engage in a conversation with researchers over a cup of coffee, and to submit an idea about an opportunity or challenge in their lives, community, Ireland or the world; or something they are curious or passionate about and would like researchers to explore.
Encouraging people to visit the roadshow, Minister for Further and Higher Education, Research, Innovation and Science Simon Harris said, said: "Over the course of the pandemic, we were reminded starkly of how much of our daily lives depend on the efforts of researchers to secure our economy, wellbeing, and health. As a forward-thinking country, we must ask how research can help meet the opportunities and challenges facing our society over the coming years. Creating our Future opens up this question to all.
This roadshow will engage people right across our country in this vital campaign. Everyone, everywhere, can have an idea for a better future. I look forward to hearing them."
For more information on how to get involved or to submit an idea, go to: www.creatingourfuture.ie.
Photography of the Roadshow launch in Greystones will be distributed after the event.
Location
Date
Time
Greystones
Greystones Harbor
September 24th
9:30am-12pm
Blanchardstown
Blanchardstown Shopping Centre (Blue Entrance)
September 27th
9am-11am
Dublin City
St. Stephen's Green (Fusiliers' Arch)
September 27th
2pm-6pm
Naas
Naas Poplar Square
September 28th
9am-11 am
Portlaoise
Portlaoise County Council Plaza
September 28th
1pm-3pm
Carlow Town
Carlow Liberty Tree in Town Centre
September 28th
5-7pm
Wexford Town
Wexford Quays
September 29th
9am-10:30 am
Kilkenny City
The Parade
September 29th
1pm-3pm
Waterford City
John Roberts Square
September 29th
5-7pm
Youghal
Clock Tower at Town Centre
September 30th
9am-11 am
Cork City
52 Grand Parade
September 30th
1pm-3pm
Killarney
College Square
September 30th
5-7pm
Tralee
The Plaza
October 1s
9am-11 am
Limerick City
Arthurs Quay
October 1s
2pm-4pm
Ennis
The Height, O'Connell Square
October 1s
5.30pm-7pm
Break
Galway City
Spanish Arch
October 11th
9am-11 am
Castlebar
The Mall
October 11th
5.30pm-7pm
Sligo Town
O'Connell Street
October 12th
9am-11 am
Killybegs
Between the Bay View Hotel &
Tara Hotel Killybegs
October 12th
1pm-2pm
Letterkenny
Market Square
October 12th
4:30-6pm
Carrick on Shannon
HSE Primary Care Centre
October 13th
10am – 12pm
Longford Town
Tesco in Longford Town
October 13th
2pm-3:30pm
Mullingar
Mullingar Chamber of Commerce
October 13th
5.30pm-7pm
Navan
Kennedy Place
October 14th
9am-11am
Cavan Town
Market Square
October 14th
1pm-3pm
Monaghan Town
The Court House
October 14th
5-7pm
Dundalk
Dundalk Marshes Shopping Centre
October 15th
9am-10:30am
Tullamore
O'Connor Square
October 15th
1.30pm-3pm
Nenagh
Banba Square
October 15th
5.30pm-7pm
Break
Tallaght
Tallaght Shopping Centre
October 25th
9am- 11:30am
Liffey Valley
TBC
October 25th
1pm-3pm
Swords
Pavillions Shopping Centre
October 25th
5pm-7pm
For media queries please contact Kuba Stawiski Kuba.Stawiski@cicero-group.com on 01 442 9004 or Susan Keogh onSusan.Keogh@cicero-group.com.
Further details can be found at www.creatingourfuture.ie
ENDS.