Expert Committee established to assist Creating Our Future
An Expert Committee has been established to lead the analysis and interpretation of ideas submitted by the public as part of the Creating Our Future campaign. Creating Our Future is a government-led national brainstorm that will involve the people of Ireland in a conversation on the role research can and should play in addressing opportunities, […]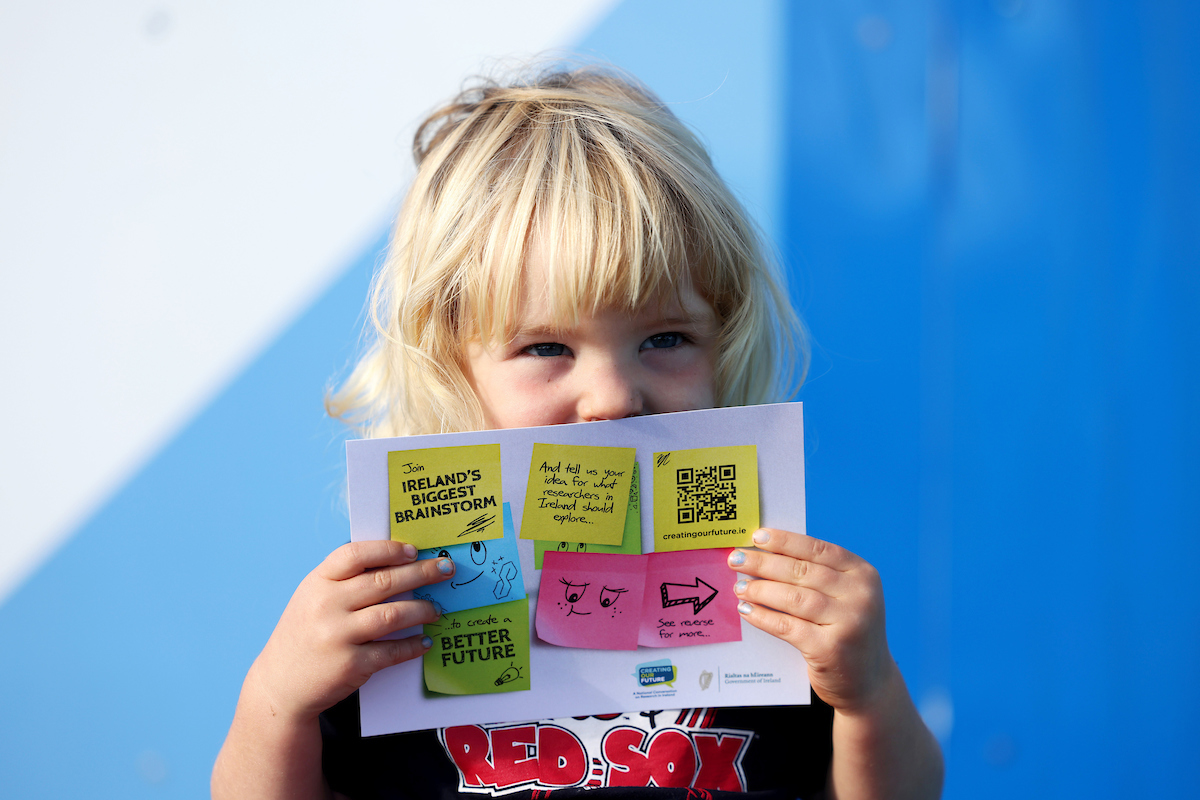 An Expert Committee has been established to lead the analysis and interpretation of ideas submitted by the public as part of the Creating Our Future campaign.
Creating Our Future is a government-led national brainstorm that will involve the people of Ireland in a conversation on the role research can and should play in addressing opportunities, challenges and hopes for the future. Creating Our Future will ensure that the direction of research in Ireland is informed by the people it serves.
The newly established committee, composed of experts across a range of research disciplines, will lead the analysis and interpretation of submissions from the public dialogue. Under their leadership, five multidisciplinary Expert Working Groups will soon be established to support the analysis of the public's submissions.
Chaired by Professor Linda Hogan, Trinity College Dublin, the overarching purpose of the committee's analysis is to ensure that the findings reflect the public's voice and recommendations are developed to inspire research in Ireland.
Speaking more about the role of the committee, Linda Hogan said:
"My colleagues and I on the Expert Committee are delighted to contribute to this important initiative. We look forward to reading the submissions from the public and to ensuring that the analysis of the publics' views is informed by the collective expertise and experience of our group, which is drawn from different areas, sectors, and disciplines. We expect that our report, which will reflect the public's views, will help shape the future of research in Ireland."
Established in September 2021, the committee will submit their findings to the Campaign Steering Committee in February 2022. The committee will complete their role at the end of the campaign in March 2022.
Other members of the committee include Dr Niall Smith, Munster Technological University, Ms Lorna Ross, VHI Chief Innovation Officer, Professor Jose Bengoechea, Queens University Belfast, Dr Orla Flynn, Galway-Mayo Institute of Technology, Professor David Farrell, University College Dublin, Professor Brian Norton, the International Energy Research Centre, and Professor Anita Maguire, University College Cork.
Creating Our Future will ask people and communities across Ireland to submit ideas through a dedicated online portal, www.creatingourfuture.ie, open until the end of November 2021.
All responses submitted to the portal will be collated and shared with independent experts, comprised of researchers from academia, the private sector, and civil society, who will distil the ideas into a report for Government to inspire future research in Ireland.
Details of events that are on-going virtually and across the country are available on the website.