Creating Our Future Ambassador & Hurler Shane O'Donnell on his career-defining moments
Join Broadcaster Paul Collins for an in-depth conversation with Clare Hurler and Microbiologist Shane O'Donnell, about his defining moments from his sporting and research careers and life to date. Creating Our Future today announced that Shane O'Donnell, Creating Our Future Ambassador, County Clare Hurler and Eagle Genomics researcher, will hold an event at the Glor in Ennis on Tuesday 23 November 7:30pm. Broadcaster Paul Collins […]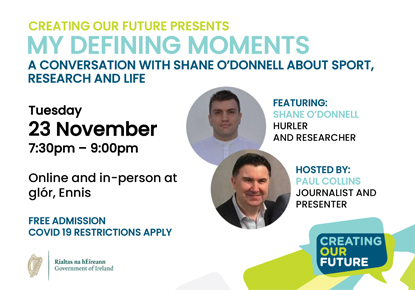 Join Broadcaster Paul Collins for an in-depth conversation with Clare Hurler and Microbiologist Shane O'Donnell, about his defining moments from his sporting and research careers and life to date.
Creating Our Future today announced that Shane O'Donnell, Creating Our Future Ambassador, County Clare Hurler and Eagle Genomics researcher, will hold an event at the Glor in Ennis on Tuesday 23 November 7:30pm.
Broadcaster Paul Collins will host a one-on-one-conversation with Shane, followed by an audience Q&A and an interactive brainstorming session.
The conversation will touch on Shane's 3-03 score in the 2013 All-Ireland Hurling Championship Final, his studies at Harvard University as a Fulbright Scholar, his balancing of his sporting and research career, as well as his recent concussion and his work at Eagle Genomics, among other topics.
Shane will discuss the opportunities and challenges he has faced in his life to date, the continuing role of research in these areas, and his advice on lessons learned for others following his journey.
Free in-person tickets to the event can be booked on the Glor website (Creating Our Future Presents My Defining Moments- A Conversation with Shane O'Donnell – Glor). The conversation will also be livestreamed on the Glor website.
Speaking ahead of the event Shane O'Donnell said: "I am delighted to participate in the upcoming Creating Our Future event in Ennis. It has been a great experience so far acting as an ambassador for this campaign as it allowed me to discuss the importance of research in everyday life. As a hurler and researcher, I also understand the particular importance of research into sports and injuries such as concussions – where I have my own story to tell. I am looking forward to sitting down with Paul and discussing my defining moments and looking ahead into my future career in research and in the GAA."
About Creating Our Future
 Dubbed Ireland's Biggest Brainstorm, Creating Our Future has now entered its final month for receiving submissions from the public. 
Through online and in-person events like this one, Creating Our Future is speaking to broad and diverse communities across Ireland to capture their ideas to create a better future.
The campaign has received more than 7,000 submissions so far and aims to secure 10,000 by the closing date of 30th November 2021.  The submissions received to date have come from members of the public submitting both directly on the campaign website or through engagement with the Creating Our Future Team. Creating Our Future travelled to every county in Ireland with a roadshow in October.  
Ideas can be submitted directly on creatingourfuture.ie before midnight on the 30th November 2021 or on postcards provided at brainstorms and Creating Our Future roadshows  
All the ideas/suggestions received are compiled, filtered, and categorised by independent experts from a broad range of backgrounds.
The submissions received will then form a report for Government and will inform current and future research.