Creating Our Future ambassador and TV presenter Emer O'Neill to host conversation about the lived experiences of Ireland's Black community in Bray
Creating Our Future, the Government-led campaign on the future of research in Ireland, today announced that Ambassador Emer O'Neill (Teacher, Author and Presenter of RTÉ's Today show and formerly Home School Hub) will host a discussion with a range of guests about the lived experiences of Ireland's black community in 2021 and what research is needed to understand and address the emerging issues.  Boidu Sayeh (Westmeath Footballer), Cllr. Uruemu Adejinmi (Lord Major […]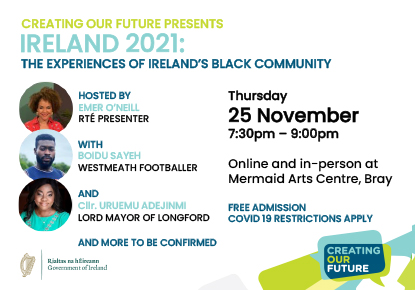 Creating Our Future, the Government-led campaign on the future of research in Ireland, today announced that Ambassador Emer O'Neill (Teacher, Author and Presenter of RTÉ's Today show and formerly Home School Hub) will host a discussion with a range of guests about the lived experiences of Ireland's black community in 2021 and what research is needed to understand and address the emerging issues. 
Boidu Sayeh (Westmeath Footballer), Cllr. Uruemu Adejinmi (Lord Major of Longford), Lilian Nwanze Akobo (PhD Student at Maynooth University and Irish Research Council Scholar) and others will join Emer on the panel.
The event will take place on Thursday, 25th November at 7:30PM at the Mermaid in Bray, Co. Wicklow.
Attendance at the event is free, but pre-registering on the website is required (IRELAND 2021: A Conversation About the Experiences of Ireland's Black Community – Mermaid Arts Centre).
The conversation will also be livestreamed on the Mermaid's website.
Speaking ahead of the event Emer O'Neill said: "I'm really excited to be an ambassador for Creating Our Future and rightly this campaign is placing a focus on the experiences of diverse communities across Ireland. It's so important that we strive for a society that serves all of its people and addressing everyone's concerns. We are here to help researchers build that type of country.
"This event in Wicklow will crown all of our efforts to make this campaign as inclusive and diverse as we possibly can. I urge as many people to get involved as possible and I look forward to engaging with everyone at the Mermaid and on the livestream. This is a real opportunity for us to shape the future of Ireland."
About Creating Our Future 
Dubbed Ireland's Biggest Brainstorm, Creating Our Future has now entered its final month for receiving submissions from the public. 
The campaign has received more than 7,000 submissions so far and aims to secure 10,000 by the closing date of 30th November 2021. 
The submissions received to date have come from members of the general public submitting both directly on the campaign website or through engagement with the Creating Our Future Team. Creating Our Future travelled to every county in Ireland with a roadshow in October.  
Ideas can be submitted directly on creatingourfuture.ie before midnight on the 30th November 2021or on postcards provided at brainstorms and Creating Our Future roadshows  
All the ideas/suggestions received are compiled, filtered, and categorised by independent experts from a broad range of backgrounds.  
The submissions received will then form a report for Government and will inform current and future research.