Minister Harris announces over 18,000 ideas received from members of the public in Creating Our Future campaign
Minister for Further and Higher Education, Research, Innovation and Science Simon Harris TD has today (1 December) announced that over 18,000 ideas have been received from members of the public in the Creating our Future campaign. The campaign closed on Tuesday night after five months of engagement with the public, including workshops, events and a roadshow […]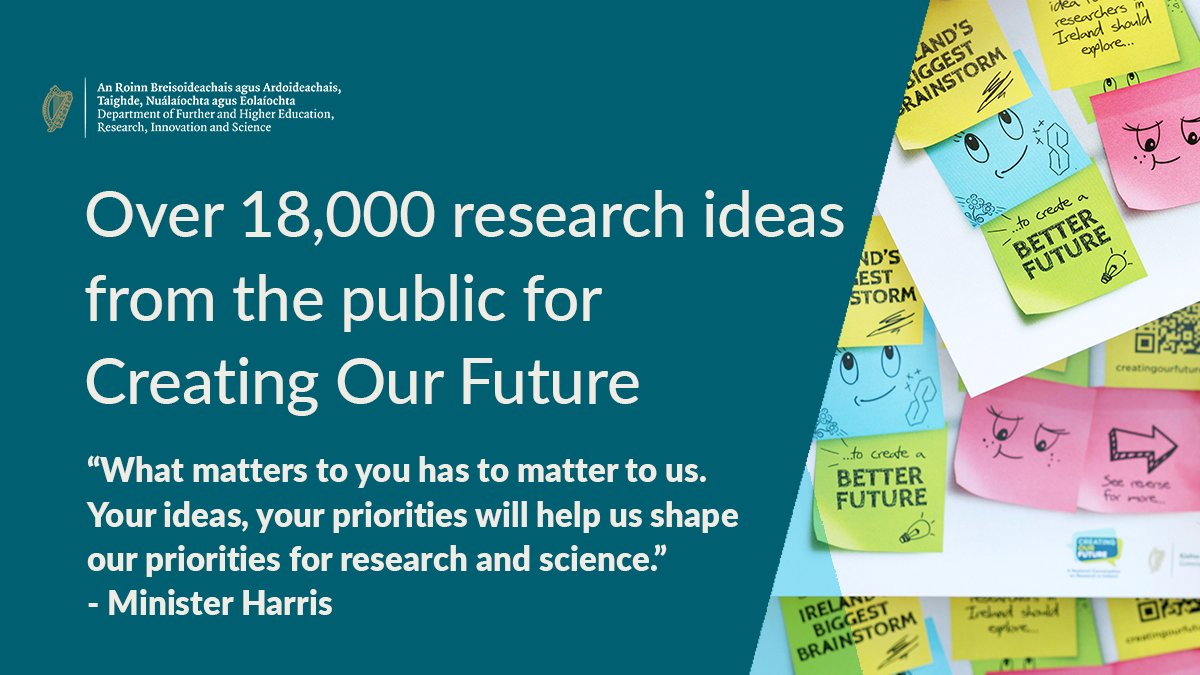 Minister for Further and Higher Education, Research, Innovation and Science Simon Harris TD has today (1 December) announced that over 18,000 ideas have been received from members of the public in the Creating our Future campaign.
The campaign closed on Tuesday night after five months of engagement with the public, including workshops, events and a roadshow which travelled to every county in Ireland.
Minister Harris said: "I want to genuinely thank each and every person who engaged with this campaign. Your ideas, your priorities will help us shape our priorities for research and science going forward.
"What matters to you has to matter to us and that is what this Creating our Future campaign is all about. Our team have travelled the country, from the fisherman in Killybegs to the special needs students in Dublin, to ask what you want us to focus on and what you want us to do about it.
"The next step is for the Expert Committee and its Working Groups, chaired by Prof Linda Hogan Trinity College Dublin, to begin the task of analysing the data, to ensure that the findings reflect the public's voice and recommendations are developed to inspire research in Ireland. The team will report to me shortly on this next stage. But today is a day to thank you all for your input, and to assure you that your voice will be heard."
"I'd also like to thank our Ambassadors, Prof Luke O'Neill, Emer O'Neill, Shane O'Donnell and Prof Emilie Pine, and the Advisory Forum, led by Julie Byrne, Global Head of Nokia Bell Labs External Collaboration Programs, for their ongoing commitment to ensuring we engaged and reached all sectors of our society."
Minister Harris added: "Over the coming years, Ireland will need to find solutions to the biggest challenges facing our society.
"The starting point for all research and innovation is curiosity and a good idea. 'Creating Our Future' has used the public as inspiration for research that could be undertaken in Ireland.
The experience of COVID-19 teaches us that we need to work together to solve large challenges to our society, with researchers and the general public contributing to government policies and decision-making."