Creating Our Future Expert Committee members
The Creating our Future Expert Committee, composed of experts across a range of research disciplines and areas, are leading the analysis and interpretation of ideas submitted by the public as part of the Creating Our Future campaign. Creating Our Future is a government-led national brainstorm that involved the people of Ireland in a conversation on […]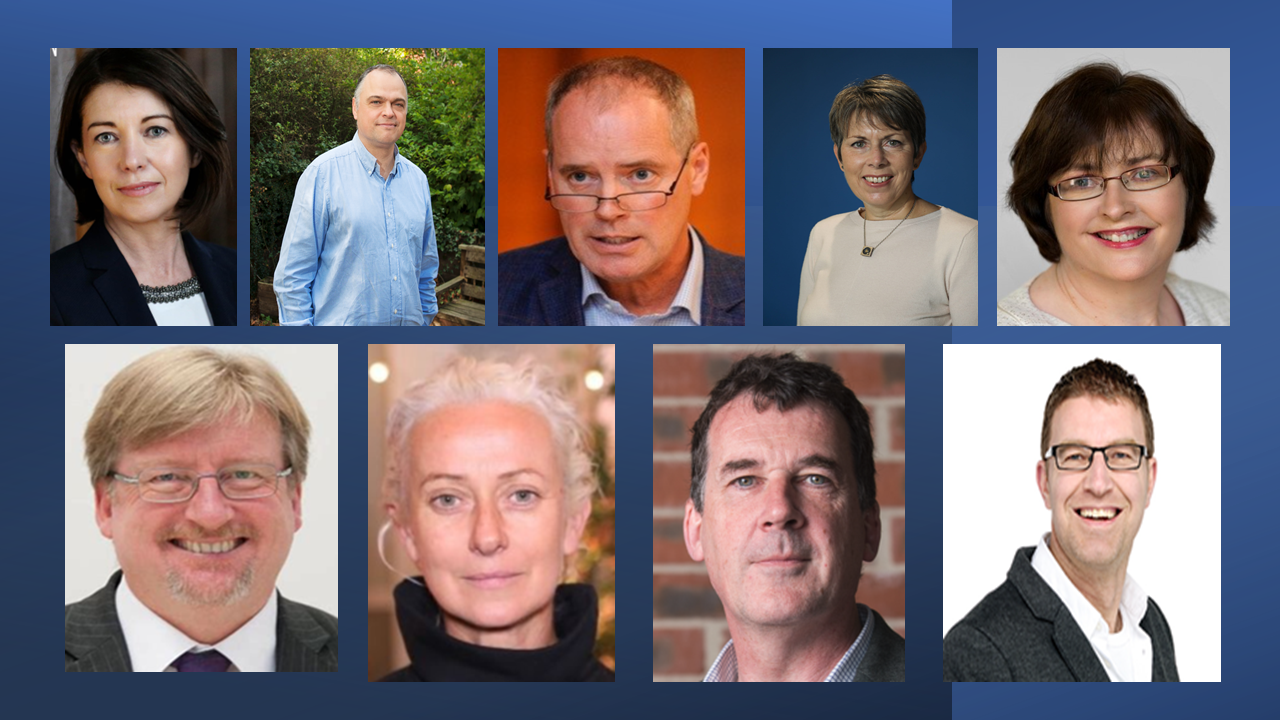 The Creating our Future Expert Committee, composed of experts across a range of research disciplines and areas, are leading the analysis and interpretation of ideas submitted by the public as part of the Creating Our Future campaign.
Creating Our Future is a government-led national brainstorm that involved the people of Ireland in a conversation on the role research can and should play in addressing opportunities, challenges and hopes for the future.
Creating Our Future will ensure that the direction of research in Ireland is informed by the people it serves.
The Expert Committee's analysis of ideas submitted by the public is to ensure that the findings reflect the public's voice and recommendations are developed to inspire research in Ireland
Under their leadership, five multidisciplinary Expert Working Groups, a technical analysis team and a design team have been established to support the analysis of the public's submissions.
Chaired by Professor Linda Hogan, Trinity College Dublin, the committee will submit their findings to the Campaign Steering Committee in February 2022. The committee will complete their role at the end of the campaign in March 2022.
Expert Committee members:
· Linda Hogan (Chair of Expert Committee)
· Jose Bengoechea (Chair Expert Working Group)
· David Farrell (Chair Expert Working Group)
· Orla Flynn (Chair Expert Working Group)
· Anita Maguire (Chair Expert Working Group)
· Brian Norton (Chair Expert Working Group)
· Lorna Ross (Chair Design Team)
· Niall Smith (Advisory Forum Liaison)
· Barry Smyth (Technical Analysis Lead)
Below is a brief biography on each Expert Committee member:
Linda Hogan
Professor Linda Hogan is an ethicist with extensive experience in research and teaching in pluralist and multi-religious contexts. Her primary research interests lie in the fields of inter-cultural and inter-religious ethics, social and political ethics, human rights and gender, and she has published extensively on these topics.
In addition to her academic expertise, Professor Linda Hogan has expert knowledge of institutional management and governance, having spent 5 years as the Vice-Provost/Chief Academic Officer and Deputy President at Trinity College Dublin. In that role she had overall responsibility for education and research at the university and was an ex officio member of
the university's Senior Management Team. She coordinated strategic planning and had responsibility for the direction and quality of research, undergraduate and postgraduate education, and the student experience.
Professor Hogan has lectured on a range of topics in ethics and religion, including Ethics in International Affairs; Ethics of Globalisation; Biomedical Ethics; Human Rights in Theory and Practice; and Comparative Social Ethics. She has held posts at Trinity College Dublin and at the University of Leeds, where she was a member of the Centre for Gender and Women's Studies and of the Centre for Business Ethics. She has been a member of the Irish Council for Bioethics and has been a Board member of the Coombe Hospital, Science Gallery and Marino Institute of Education. She has worked on a consultancy basis for several national and international organisations, focusing on developing ethical infrastructures.
Jose Bengoechea
Prof Bengoechea completed his degree in Biology and acquired further specialisation in Microbiology in the University of Navarra (Pamplona, Spain) during his PhD. In 1998, he took a postdoc position in the laboratory of Prof Mikael Skurnik (Turku, Finland) to receive advanced training on molecular microbiology. In 2002, after obtaining a "Miguel Servet" tenure-track contract, funded by the Spanish Ministry of Health, Prof Bengoechea started his independent research career at University Hospital Son Dureta (Palma de Mallorca, Spain). In 2007, he earned a tenure position in the Spanish Research Council (CSIC). Prof Bengoechea joined Queen's University Belfast in July 2013, as Professor of Molecular Microbiology and he is currently the Director of the Wellcome-Wolfson Institute for Experimental Medicine.
Prof Bengoechea is an international recognized leader in the antimicrobial resistance field, with a major focus on understanding how antibiotic resistant microbes avoid our defences. Prof Bengoechea has established a unique reputation in the study of Klebsiella pneumoniae infections. This microbe has been singled out as an "urgent threat to human health" due to isolation of strains resistant to all antibiotics. His laboratory has pioneered the study of the interplay between Klebsiella and the immune system, and research from his laboratory has provided the foundation for new treatment against this infection, including the first-in-kind host-directed therapeutics approach. His research programme is supported by the UK government (Medical Research Council, and Biotechnology and Biological Sciences Research Council); and previously received funding also from the EU.
David Farrell
Professor Farrell is a specialist in the study of representation, elections, parties, and deliberative mini-publics. His most recent books include: The Oxford Handbook of Irish Politics (co-edited, Oxford University Press, 2021), Deliberative Mini-Publics: Core Design Features (co-authored, Bristol University Press, 2021), and Reimagining Democracy: Lessons in Deliberative Democracy from the Irish Front Line (co-authored, Cornell University Press, 2019). In addition, he has published 20 other books (authored/edited) including the award-winning Political Parties and Democratic Linkage: How Parties Organize Democracy, published by Oxford University Press in 2011. His current work is focused primarily on deliberative mini-publics. To date he has advised and/or researched six government-led deliberative mini-public processes in Ireland, the UK and Belgium. Professor Farrell was Head of School at University College Dublin from 2010-13 and again from 2016-21. Prior to his move to Dublin in 2009, he was professor and head of Social Sciences at the University of Manchester. He has held visiting positions in the Australian National University, Harvard, Mannheim, and the University of California Irvine. From 1995-2018 he was the founding co-editor of Party Politics. He was President of the Political Studies Association of Ireland from 2012-16. He was elected a member of the Royal Irish Academy in 2013. In 2021 he was elected Chair of the European Consortium for Political Research (ECPR), a position he will hold for three years. Prior to that he was the Chair of the Finance Sub-Committee of the ECPR from 2018-21. Other previous positions have included: member of the Stewarding Group of the Scottish Citizens' Assembly; research leader of the Irish Citizens' Assembly (funded by the Irish Research Council); membership of the Welsh Assembly's Expert Panel on Electoral Reform; Chair of the Forum on Parliamentary Discipline established by the Ceann Comhairle (Speaker) of Dáil Éireann; President of the Political Studies Association of Ireland; Speaker of the Council of the European Consortium for Political Research; and membership of the international advisory boards of the Electoral Integrity project and Making Electoral Democracy Work project.
Orla Flynn
Dr Orla Flynn is President of Galway-Mayo Institute of Technology since March 2020, having been Vice President for External Affairs at Cork Institute of Technology (CIT) for the previous six years. Prior to that she held various senior academic roles in CIT including Head of CIT Crawford College of Art and Design and Head of School of Humanities. Since joining GMIT Dr
Flynn has led the institute to its achievement of the Athena SWAN bronze award and its forthcoming designation, along with partners in IT Sligo and Letterkenny IT, as the Atlantic Technological University.
Dr Flynn commenced her academic career as a lecturer in mathematics and computer science and holds undergraduate and postgraduate qualifications in Mathematical Physics and Computer Science from University College Cork, an MA in Management in Education from WIT, and a PhD from the Kemmy Business School at the University of Limerick. She is a Director on the Boards of HEANet and Galway Chamber of Commerce.
Anita Maguire
Professor Anita Maguire is Professor of Pharmaceutical Chemistry and Director of the ABCRF, having just finished two terms as Vice President for Research & Innovation at University College Cork. She is a Co-PI and co-theme lead in SSPC.
Following studies at UCC (BSc Chemistry 1985, PhD 1989), and postdoctoral research experience in Namur, Belgium then at the University of Exeter, UK, Anita returned to UCC in 1991 to establish an independent research team. In 2004 Anita was appointed as the first holder of the Chair of Pharmaceutical Chemistry at UCC. Anita leads a research team focusing on synthetic organic and medicinal chemistry, which interacts extensively with the pharmaceutical sector in Ireland and internationally. Her research interests include development of new synthetic methodology including the use of continuous flow, asymmetric synthesis including biocatalysis, and the design and synthesis of bioactive compounds.
She is actively engaged in national policy development in research and innovation, especially in relation to PhD education and the university – industry interface. For example, she chaired the Advisory Science Council Task Force on The Role of PhDs in the Smart Economy, and she is the inaugural Chair of the National Forum on Research Integrity in Ireland established in 2015. She was elected as a Member of the Royal Irish Academy in 2014 and Vice President of the Royal Irish Academy in 2019. She was an Adjunct Professor in the University of Bergen, 2011-16.
Brian Norton
Professor Brian Norton DSc MRIA FIAE was appointed the Head of Energy Research at IERC in July 2020. He is a Member of the Royal Irish Academy, Ireland's highest academic distinction, and a Fellow of the Irish Academy of Engineering. He is an Honorary Fellow of the Chartered Institute of Building Services Engineers. His awards include the CIBSE Napier Shaw Medal for the development of the degree-hour building energy-use correlation; the
Energy Institute's Roscoe Award which recognised his research comparing the embodied environmental impact of all renewable and non-renewable energy sources and the American Association of Publishers PROSE Award for the book "Comprehensive Renewable Energy". He has received the Lifetime Achievement Award from the Solaris Conference series and "Solar Energy" Journal Best Paper Award in Photovoltaics.
He is currently a Principal Investigator in MaREI, the Irish national research centre for Energy, Climate and Marine and leads its Energy Efficiency research area. He is an Honorary Professor at Universities in Northern Ireland, Harbin and Beijing, China and Houston, USA. He is currently Vice-President and Treasurer of the European Sustainable Energy Innovation Alliance and serves on the Steering Committee of the Daylight Academy. He has led international collaborative research programmes, IEA and COST activities. He has undertaken strategic reviews of energy research; including those for the UK, Estonia and several universities internationally.
Lorna Ross
Lorna's design career spans 30 years, with stops in the world of fashion, wearable technology, robotics, HCI, and most recently, health care. Designing for the future human, she is known for her ability to anticipate shifts in the social, cultural, and economic context for design. Recognised internationally as a veteran of design for human/ machine
compatibility, her work in this area spans wearable technology in the '90s, health tech in the '00s and UI/UX/ PX in the '10s.
In 2001, she identified the theme of health as an emerging arena for design when she founded and led the Human Wellbeing Group at the MIT Media Lab. Her vision was to employ human centred design principles to address the biggest challenges facing the healthcare industry. In 2009 she moves to the Mayo Clinic where she led the design studio in the Centre for Innovation for nine years before returned to her native Ireland to take up the Group Director position at the Fjord design studio inside Accenture's global R&D centre The Dock.
While with Accenture, she founded and led the Human Insights Lab in collaboration with Trinity College, addressing the philosophical, anthropological, and historic context of tech adoption. In 2019 she returned to healthcare with VHI Health & Wellness Group as their Chief innovation Officer where she leads out on clinical service transformation and digital health strategy for Vhi.
Niall Smith
Dr Niall Smith is Head of Research at Munster Technological University. Niall studied astrophysics at UCD and became Cork Institute of Technology's (now MTU) first Head of Research in 2005.
He now provides strategic oversight across disciplines from science and engineering to arts and music. Niall is a Founder-Director of the award-winning Blackrock Castle Observatory (BCO), which celebrates its 15th anniversary in 2022, having to date welcomed over 1.5 million visitors. BCO staff have trained over 950 teachers to use space in the classroom, have engaged with over 43,000 primary and post-primary students in formal science workshops and an additional 45,000 in informal workshops, with over 150,000 members of the public attending events organised by BCO.
In 2017, Niall was the host site lead for the International Space University Space Studies Programme, lasting 9 weeks and involving over 320 global space experts. The conference published a document entitled 'A Roadmap for Emerging Space States', which helped to catalyse the development of a National Space Strategy for Enterprise. Niall was the HEI representative on the National Steering Group for the Space Strategy.
He is a Governing Member of the International Space University. Niall was awarded the SFI Research Image of the Year (2020) on behalf of a team at MTU that used an astrophysics approach to examine the efficacy of masks against Covid-19 and in 2021 MTU was awarded Covid-19 Impact University by the Sunday Times, citing the impact of this image and associated dissemination statistics. Niall writes a monthly column in the Irish Examiner called 'Skymatters', is a Board Member of the National Sculpture Factory, a space company advisor and a member of several national committees.
Barry Smyth
Barry Smyth holds the Digital Chair of Computer Science at University College Dublin and is a founding director of the Insight SFI Research Centre for Data Analytics. He is an elected member of The Royal Irish Academy and a Fellow the European Associated for Artificial Intelligence. Barry's research interests include artificial intelligence, machine learning and recommender systems. He is also an entrepreneur, having co-founded a number of technology companies, and Barry currently serves as an advisor/board member for several technology and media companies.